RPM Magazine | May 26th Immediate Press Release
Each Month goDragRacing.org will be brining you the latest in Press releases and announcements through RPM Magazine, The only "Real Time Voice Of Heads Up Outlaw Drag Racing" One of the most positive reading experiences you can subscribe to. RPM Magazine is published throughout the world and brings you the best in drag racing action, as fast as the internet but in large format, high quality photo quality paper, heavy stock brought to your door through the subscription, RPM Magazine is also available for your business, Speedshop, and race track. An all in one publication of the best writers, photographers and drag racing intellect known today. Chris and Trish Biro head up this exclusive coverage.

FOR IMMEDIATE RELEASE
RPM PowerFest, More Than a Drag Race...It's A Festival of Power!
3 Exciting new announcements for the RPM Magazine Family PowerFest & Media Weekend
that will only add to the fun for the whole family!
Brantford, Ontario - May 26, 2010
Lucas Oil Products extends it commitment to the PowerFest by adding their Lucas Oil Racer Appreciation program for the event competitors. "It's simple, the first 250 racers in the gate for the PowerFest will receive a 5 litre jug of Lucas Oil Products 10W30 oil and bottle of Lucas's incredible Slick Mist paint detailer," said Lucas Oil's Steve Snowden. "These are the people that are putting on the show and we want to help show our appreciation to them!"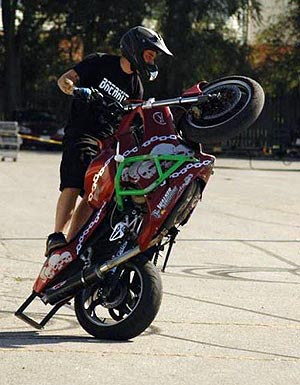 Twisted Intentions!
Twisted Intentions, a wild motorcycle stunt team out of Southwestern Ontario, Canada will be performing a minimum of 2 shows on Saturday June 25th during the RPM Magazine PowerFest weekend at Grand Bend Motorplex in Grand Bend Ontario, Canada. There are five "twisted" individuals that make-up the team; Brent Klauka, Erik Urban, Jamie Gagnier, Jeff Kacan, and Keith Brown and all five will be performing at once during their scheduled shows! Get ready for some intense motorcycle stunts that will leave you saying, "man those guys are twisted!"

Drag Racer Bob MacDonald brings his Lucas Oil Race Car Simulator on wheels to the PowerFest!!


In 1995 Constable Bob McDonald first developed his racing car simulator from a Can Am ¾ midget race car which he formally had been racing with the Can Am Midget Club. With the support and understanding of his police service the Woodstock City Police, the race car simulators have continued to evolve. Over the years the simulators have made hundreds of appearances at drug education events and public events in Ontario.

Several years ago Lucas Oil Canada became involved in Constable Bob McDonald's focus, using racing as an interactive tool to gather the attention of the youth to open the door in delivering an effective substance abuse message.

Now, the Lucas Oil Race Car Simulators encompasses five driving stations where all five drivers are racing on the same computer generated race track, which are all self contained in an enclosed race car trailer. The simulators fit a wide variety of people who express an interest in stock car racing. When at events, outside of the drug education events, members of the public are invited to take an opportunity to try their hand at racing head to head. With the help of Lucas Oil thousands have already taken advantage of this and many more will have an opportunity in the future.


Special Family pricing is available and can be found at www.rpm-mag.com

Watch your email and the pages of RPM Magazine for more exciting news as it develops or log onto www.rpm-mag.com or www.grandbendmotorplex.com

For information you can call:
RPM Magazine at 519-752-3705 or by email at eventinfo@rpm-mag.com Or Grand Bend Motorplex at 519-238-7223
RPM Magazine, Eleven Years Strong! The Voice Of The Stars and Cars of Heads-up and Outlaw Drag Racing Worldwide brings you No Politics, No Strings, Just Action!

Watch RPM Magazine for 100% exclusive articles. RPM Magazine... Often Imitated, Never Duplicated!

SUBSCRIBE TODAY TO HAVE THE WORLD'S ONLY "REAL TIME" MAGAZINE DELIVERED TO YOUR DOOR EACH MONTH. VISIT OUR WEBSITE BY CLICKING HERE TO SUBSCRIBE NOW!
RPM Magazine has been publishing exclusive articles and editorials regarding the sport of Drag Racing heading into it's eleventh year and is well known for their "real world" approach to this area of the sport. RPM is the worlds ONLY "Real Time" magazine, meaning when the coverage reaches readers it is current not ancient. RPM can be found on select newsstands, at industry performance shops and outlets, is distributed at various events worldwide, or can be obtained through subscription by visiting www.rpm-mag.com. Get your subscription today to be sure you receive your monthly fix of RPM now in full gloss and full color.
RPM Magazine has become the world leader in providing print media focusing solely on Fast Doorslammer, Outlaw and Street Legal style drag racing. With tens of thousands of readers in twenty different countries, RPM is touted as THE print media source for event, racer, team and industry coverage of the sport. With offices across USA and Canada RPM Magazine is made up of a diverse team of racers and enthusiasts with countless years of hands-on knowledge in the sport of drag racing. RPM can be reached through www.rpm-mag.com or by calling 519.752.3705.
To unsubscribe from this email list and all emails relating to RPM Magazine click here and enter Unsubscribe in the Subject Line.