Press Release - June 18, 2010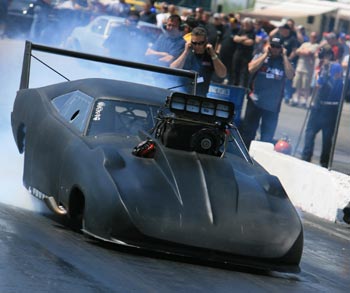 RPM PowerFest Tentative Event Schedule Released

"The time is drawing near for the inaugural RPM Family PowerFest and Media Weekend presented by Lucas Oil Products FEATURING the VP Racing Fuels Ultimate Pro Mod Showdown!" Exclaimed an excited RPM Magazine Editor, Chris Biro.

"Everything is in place for a great weekend of drag race action June 25th - 27th, not to mention off-track fun on Saturday and we will be posting our tentative event schedule online today. There is lots to see and do but you MUST be there for the BIG Show on Saturday! The VP Racing Fuels Ultimate Pro Mod Showdown is growing like crazy and should be the biggest, baddest Pro Mod show on Canadian soil!"

Biro continued, "Plus, you'll get a chance to see the amazing Quick 32 Sportsman Series Presented by NAPA Auto Parts... these guys and girls don't mess around,they are wicked fast and great fun to watch... especially the final, which pits a dragster against a doorslammer! And Grand Bend's own Thunder Series promises to bring out some of the areas top bracket talent from two countries as well! Plus, the off-track fun planned for Saturday will make it a summer weekend to remember"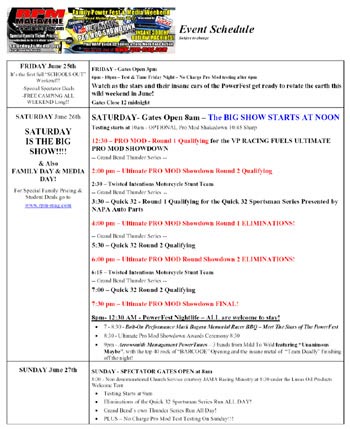 CLICK THE SCHEDULE ON THE LEFT TO VIEW FULL SIZE SCHEDULE AVAILABLE ON THE EVENT WEBSITE FOR PRINTING.

Don't forget... our racer PIT AREAS are open to you! The cars and stars of all the classes of the PowerFest are accessible to each every fan that enters the event!

Saturday is Media Day, meaning there will be over 40 media representatives from 2 countries on hand to experience EXTREME DRAG RACING first hand!

All day Saturday there will be various interactive displays for the whole family set up on the midway featuring Bob MacDonald's Lucas Oil Products Race Car Simulator!

Also, there will be 2 performances of Twisted Intentions, Ontario's top Motorcycle Stunt Team, scheduled immediately following Round 2 of Pro Mod Qualifying and Round 2 of Pro Mod Eliminations.

There will be the Bolt-on Performance Mark Bugera Memorial Racer BBQ and an awards ceremony for the VP Racing Fuels Ultimate Pro Mod Showdown taking place at the Lucas Oil Welcome tent following the finals at approximately 8:30 PM and our Arrowsmith Management PowerTunes concert will take place under the Lucas Oil Welcome Tent and the entire beer gardens area at approximately 9pm, following the awards.

All in all, the RPM Magazine PowerFest Weekend Presented By Lucas Oil Products will be one incredible experience for everyone in the house!

Remember, the PowerFest marks the first full weekend of "schools out" so we have killer deals for family and students, especially for Saturday, so be sure to visit www.rpm-mag.com where you can get all the information as it happens!

See you at the races!

All Racer, Fan and Media information can be found at www.rpm-mag.com
Family PowerFest Weekend Special Family ticket pricing is available and can be found at www.rpm-mag.com

Watch your email and the pages of RPM Magazine for more exciting news as it develops or log onto www.rpm-mag.com or www.grandbendmotorplex.com

For information you can call:
RPM Magazine at 519-752-3705 or by email at eventinfo@rpm-mag.com Or Grand Bend Motorplex at 519-238-7223