For Immediate Release APRIL 15, 2010 - MAY ISSUE 2010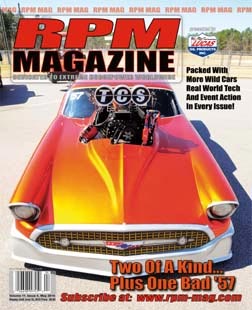 COVER - Two Of A Kind... Plus One Bad '57 Car owner Kip Kauffman with pilot Robbie Matthews behind the wheel have one goal in mind, to be the 2010 Quick 8 Outlaws Champions! This blown, alcohol sipping '57 Chevy is ready for duty!
Feature Story - ANTMAN - Anthony Smith may not be a real life super hero but his beautiful 1972 Camaro definitely is more than meets the eye, and with an online screen name of "Antman" it's hard to not associate him with the comic book crime fighter.
The Quick & The Fast In Texas - Check out who's hot as the American Drag Racing League starts 2010 at wide open throttle!
ORSCA... Straight Talk - The Outlaw Racing Street Car Association's first event of the year, and a chat with ORSCA frontmen.
Holy Smokes Batman, It's A Nash! - It's black, low, fast and is all wings but that is where the similarity between Batman's mode of transport andWesGoddard's ride ends! The real Batmobile wouldn't stand a chance!
New

Face Dominates BIG DOG Season Opener - When Danny Perry rolled into the season opener for Piedmont's Big Dog Shootout a few weeks back the consensus seemed to be "who's the new guy?" Not anymore!
Introducing The SHRA - With a motto of "The racers are the customers of the association, and we want our customers to be happy" the Southern Hot Rod Association began it's existence in 2010.
..and so much more, ONLY in RPM!