Main Menu:
Homepage
|
Drag Racing News And Announcements
|
Outlaw Drag Racing Photo Galleries
|
RPM Magazine Reviews
|
Falcon Northwest Talon Series Computer Review Part One
goDragRacing.org, Drag Racing Website Designs, Graphic Illustration, Drag Racing News and Photography
Falcon Northwest Talon Computer Review Part One


Share on Facebook, Twitter, Or Send As E Mail and More
Why A Photographer / Graphics / Web Designer Guy Would Choose A Gaming Computer Company
Authored By: goDragRacing.org, This article does not reflect the opinions of Falcon Northwest Computers nor does it represent them officially, this is the authors own opinions and reviews.

The Best Custom Built Computers for Gaming and Business | Falcon Northwest Computers Official Website


After years of computer madness for me it seemed from the beginning that I had a preference for power after the early days of a 4gig hard drive and a 14.4 modem was the coolest setup. As I got older and a bit wiser to the enormous power and new applications being produced I found myself also needing more power with each new application or program. A thorough search for the ultimate computer only lands you in one place, Falcon Northwest Computer Systems.

Being a hotrodder myself, I found the team at Falcon Northwest to being of the same frame of thought, bigger, badder and better plus building it yourself like they do at Falcon Northwest, they have the same opinion and in my experience with them, they are the hotrodder computer builders of all time. Though I am guilty of not building it myself, Falcon Northwest made it easy for me to sit back and simply have the best take on the build. My first Talon is going on 7 years old working with a single core AMD Athalon XP2800 chip. In all those years, the sturdiness of this comp and the way it was built with solid specs and an amazing set of bios tweaks, I never had to reinstall my XP operating system which many do on a relatively bi-annual calendar.

Having done so much work on this and pretty much all my programs and software was being more and more resource hungry, I took a quick trip over to the configurator at Falcon Northwest and started to go at it. Looking for a sound piece with enough power to handle just about anything I could throw at it, which I did. Being the typical inquisitive type, I had strayed away from keeping up with the newest comp technologies and left it in the hands of the team to direct me in which way to go. Many of the contacts there were Jacob being my main contact would go through line by line what I needed after telling him what I planned to do with it.

Not once did they try to oversell me or push something I didn't need, they knew exactly the amount of performance, what programs I was using would do best with my build and certainly let me know if I was on overkill on any part of this computer. Some may think a Falcon is somewhat pricey or aimed particularly at gamers but I assure you, the attention to you as a customer and details will show how dedicated the staff is in making the best machine possible for me or you and with price figured in, it's an excellent buy for getting the most out of your hard eraned dollars.


Initial Consultation: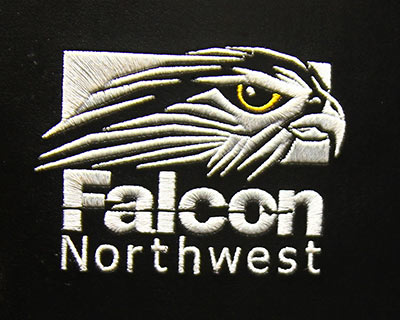 After my initial configuration was finished I felt I may have possibly overdone my choices and so on so right to the toll free number and to Jacob for another quick overview, after I revealed exactly what I was doing with this new comp, Jacob added his opinions (which BTW were extremely knowledgeable of all the programs I was to be using down to FTP's).

When he explained to me the factors involved with the level of hardware I was choosing his points were well taken and his advice was more than I expected, perfectly answered and intuitive leaving me more assured.

We finalized the build and a time frame of two weeks was put into motion to finish this Talon Series computer.




What Comes In The Box, I Mean A BIG Box Too.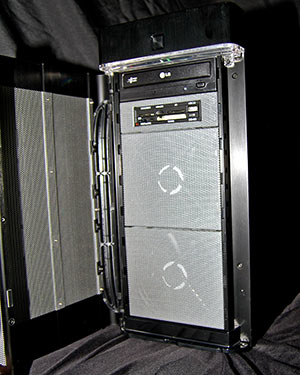 The sale went smooth, fit my budget and of course they made me feel comfortable enough when they kept me abreast of the build over the two week period, Jacob was always there to ask if I had anymore needs for this. Around Thanksgiving 2010 I found a 52lb black Falcon Northwest box awaiting the signature of mine to take into possession. Now comes the strange part for most of you.

I had waited for this new system for quite a few years and was excited to now have it yet as of this writing almost five months later I finally opened it. Asking myself and you are probably doing the same, I simply got busy and also feared starting up a new Windows 7 OS machine after vowing XP was the only OS for me, passing over many versions since I needed IE6 for designing websites and all my software was 32 bit. moving software and all my web accounts to this new machine when I am so heavily pressed with work it lay dormant for this time until now nearly five months later.

The box comes heavily padded, with the machine softly surrounded by heavy cardboard and padding in a type of suspension idea top and bottom; also you find the owner's manual included. I was always impressed with the level Falcon Northwest goes to giving the purchaser something of real value and informative documentation to make sure I have all that is needed.

With the computer out of the box and the manual, of course I needed to open her up and check it out, first finding the door on the front needed to open the other way. It only took a few seconds to swap it to the opposite side opening since the case is their own, nothing super wild just functional. Now I sit looking at one fine piece of work, the Talon chassis is their own coming in my case brushed anodized black, with custom mesh openings, some would say almost bland but I see reasoning and function in their design.

All panels can be removed via thickly grooved for comfort thumbscrews on both sides of the case. The front panel has an easy open swing out door which exposes the airflow fans and the DVD / writer / player by LG. Above this on the front panel is the computer "ON" button, a lighted strip for on and a "computer active" light with a blue hue to it. Way down on the bottom of the door is Falcons Signature logo. On the top you have access to USB both 3.0 and 2.0, fire wire ports and the reset button; six ports in all.


A Computer Owners Manual? Yes Documentation Is Heavy On Any Falcon Northwest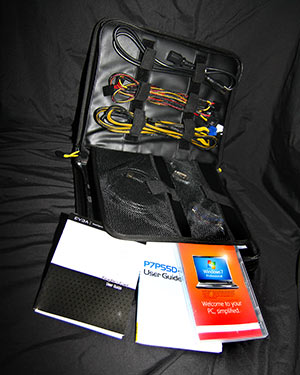 Your standard computer comes with a quick start guide and possibly a disk of some sort to start putting together all the parts of your machine. Falcon Northwest forgoes this step and gives you the most highly detailed and documented review with all the needed discs and their own build sheet. Mind you I had ordered mine with nothing, not even a mouse or keyboard.

A very large leather style bound zippered book came with this, very heavy, very well laid out with extra cables, all the needed cables for anything in peripherals you would need to add in the fist page of the book.

Please keep in mind I am a photographer and have purchased some of the finest in camera carrying cases, this rivals some of the best in craftsmanship also embroidered with their Falcon logo throughout. The mesh linings allow you to see through the expansive array of added cables and booklets. Past the first page you get to the build documentation, in my case 12 pages from order to burn in and benchmarks held by a three ring binder. As with any Falcon, it's completely personalized, giving you a "REAL" Windows7 OS disc, all the diver, motherboard, video card disks with a custom burned restore DVD in the event you need to turn back the clock in one quick step, also heavily documented.

Wrapping it up; all manuals have been included plus their step by step guide to installing most normal peripherals.


The Falcon Northwest Talon Machine Itself, Art, Form, and Function For The Discerning Owner.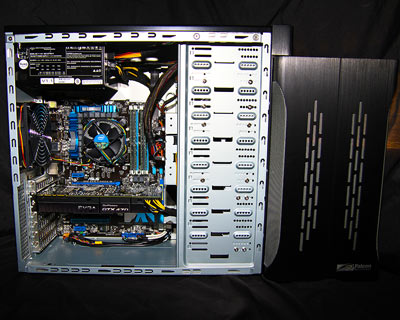 Falcon Northwest IMO has always given you a machine they love to have you open and explore. They pride themselves on their attention to the smallest details, fit, finish, performance and one of their strong points cooling and accessibility. The Falcon Mach Series is a full tower design; I needed a mid tower and a decent price which led me in the beginning to the Talon series.

My last machine was the standard "almond" case which seven years later even after all its awards now is the newest version of the Talon case. All metal, extremely heavy case finished with black panels, silver mesh, and the brushed black anodized look. All panels are easily removed which they really want you to do, since this is where the "Art" of the machine comes in.



I love a well designed piece of equipment, this makes the grade, both sides and front can be removed in seconds exposing the packed but uncluttered inside I have been waiting to see as to how it was put into place. Here is where the "Attention to Detail" comes into its full glory. All cabling is loomed and protected, plus heat shrink wrapped at all ends, any plug in peripherals, hard drives connectors have a layer of clear RTV adding to the strength and to help any shipping maladies that may jog them loose.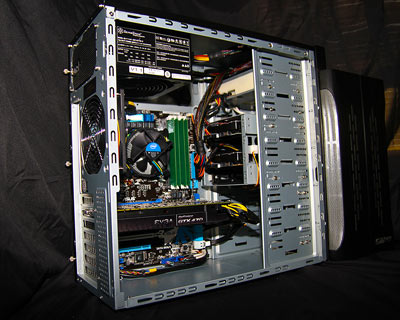 The machine stands on gorgeous polished aluminum feet with anti skid rubber attached. They finish off the personalization with an engraved label in the bottom of the case emblazoned with your name and model number. Function is where Talon's shine, Falcon Northwest takes much consideration into using all of their extensive knowledge to give you a powerful yet organized machine. They have a great handle on cooling and allowing flow on all their models, again a part of the build they went over extensively with me, since my last machine featured a very hot running Athalon chipset. I opted for the Intel chip this time and considered all the coolest cooling features they offered.

Jacob, my rep walked me through this knowing the case and my needs, did I need water cooling, super cooling or just standard cooling? Jacob assured me I DIDN'T NEED the most expensive cooling with this chip and fans were the way to go; again a strong point of not overselling. I chose the option of advance cooling which gave me two 120mm fans in the front, and one 120mm fan in the back, The two front fans are covered in a silver mesh and are not screwed in but in a bracket that simply pops out and is connected once repositioned back in the case via contact pads.

Above the fans are your drive bays, also swappable with a simple press of a lever, My two drives have quite a bit of space between them so cooling is again no problem, heat will kill a computer and they made sure the flow was more than enough. I like fans compared to liquid cooling since Falcon uses the best fans and provides sound deadening on each side of the case.

The chipset has its own heat sink / fan combination again recommended by Jacob, the SilverStone power supply is heavily isolated and well ventilated too, at 750 watts, it needs some air. All fans in the case are SilverStone. Since I do photography I took the option of the media reader which is built into the front panel using a drive bay and is well lit also adding another USB port.


Filling The Case With Power And Performance: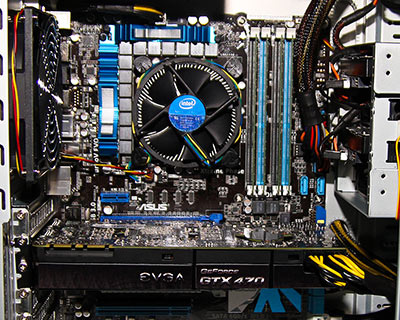 No need to even think of how well a Talon will perform, the numerous awards speak for themselves earning almost all there can be in the computer world. My expectations were to build the baddest machine I could taking all choices but realizing I may again have overdone it. Wanting all I could get and bang for the buck, Jacob was on hand again with me. My choices were way over the top once he reviewed my needs, I'm not a gamer but I use intensive programs that do need power.

My choices at first were based on no knowledge of windows 7 OS but at Falcon Northwest, Microsoft chose their machines to evaluate the OS when being released, they know the OS well. I was intent on the Intel chipset and took the I7 2.93 with no over clocking; it has all the power for Photoshop, flash applications and my graphics and video work. This was added to the default motherboard which I would have chosen anyway after my own research, the ASUS P7P55D-E PRO. The specs and accolades on this motherboard can't be denied how good it is, well organized and completely outfitted with the best of everything, multiple 3.0, 2.0, firewire ports, onboard Realtek sound, and just too much to mention in one list.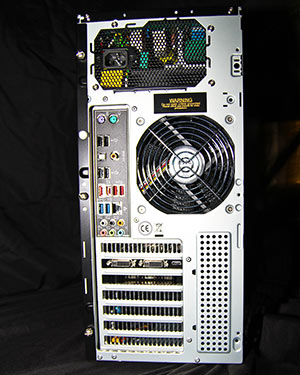 Their recommendations were more in the memory department and later for the video card. I added 16 gigs 1,600 DDR3 of Kingston Hyper memory though asked why not Crucial Brand Memory, Jacob assured me that Kingston had made huge advances in their memory and was outperforming Crucial with both reliability and real spec performance closer to that advertised so in it went. Since I wasn't adding more than the average drives and standard DVD burner / player, the 750 watt SilverStone power supply would do the job well. If needed later upgrading was easy as with anything on their machines with a simple swap. The hard drives are two SATA Western Digital Caviar "Black" 1 terabyte models with a 64 Meg cache, at 7,200 RPM and 6GB's transfer rates. I had chosen the VelociRaptors for the 10,00RPM speed again I was pointed in the right direction by my rep as to why this wasn't needed for my type of work. A separate 128 gigabyte SSD drive for Photoshop performance was added for a fast scratch disk and to perform as added memory.

Video cards are probably the hardest choice, of course you want the biggest, newest monster they have, but would it be right? Again I was proven wrong, many factors are involved n making or breaking both your wallet and your expectations. I had in mind the 2gig Nvidia card of course, the bad boy of them all, yet I would find nothing of importance for my type of work with this behemoth. I was sent to the "Video Card Time Out" area and Jacob again showed me the error of my ways, I knew I wanted Nvidia since my last few ATI cards were driver problematic, I chose to take as much power and use the speed of the card in sync with my programs to get the most out of it, the Nvidia GeForce 470 1280meg SLI ready card, with dual monitor support was just right also it mates well with the motherboard components and how they configured my machine. This card is big, not only in power but size; the midtower case is now full with this card in place.

Big cooling, powerful chipset and extremely crisp response is what it will give me as I intend to open photo's as large as 20 megs a piece in upwards of 400 at a time. It also supports the highest monitor resolutions of today.

We've all had our computers open and found a motherboard, wires, hard drive and basic peripherals kind of mingled into a bunch, Falcon Northwest takes every measure to make the box free flowing and well wired. This box is full, surprisingly full and laid out well. With all that is installed you'd think cramped, but not in this machines case, it's uncluttered, clean and you can see their idea of airflow and cooling just by looking at it, also there is no charge for the amazing wiring, and options inside the case, it's standard Falcon Northwest perfection.
What Doesn't Come In The Box, Unless You Want It.

In my case I chose to use my own choices that Falcon didn't offer, not that their keyboards, mice, peripherals weren't great, I have to do a lot of typing, mouse work and prefer what I have used in the past, even down to the monitors, they give you extreme choices. When starting with a Falcon Talon, you start from scratch or choose their starter model, which by all means is awesome and add on as you go through their award winning website configurator.

The last Falcon I purchased came exactly as I wanted; no add on "trial programs, games, and needless optional software or support policies. All wind up troublesome in the end after years of early "computer store models" with gimmick software. All that comes in the version I purchased was the Windows7 OS and minimal software for the burner and drivers, no frills. I install what I want, no fluff or junk programs. I'm sure you can all see the positives of this.


In my final image, my choices of peripherals are seen as.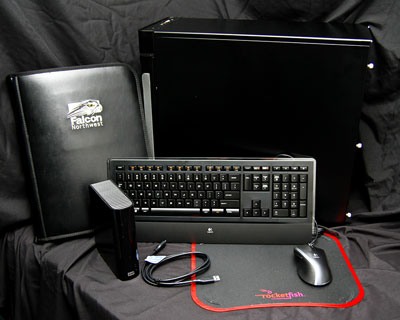 The wired USB Logitech USB, backlit Slim Keyboard I enjoy. This keyboard is one of my favorites, smooth type, excellent action and programmable keys, yet it's not intrusive or wildly exaggerated ergonomic. All the right keys in the right place, laser etched bright backlighting with a different color for the hot keys and functions, there is a wireless version but my preference has been wired for some time.

Logitech's Corded MX500 Mouse: One of the best fitting in your hand with smooth yet precise pressure actions, not to mention accuracy and function. There also is a wireless version which other may choose to try. A great mouse with all the functions and speed easily modified.

Western Digital 2TB USB 3.0 NTFS External Drive: After years of building my own externals using firewire or USB 2.0 WD finally breaks out a large capacity drive for backups in 7,200 RPM NTFS using the new 3.0 USB. Once you have used a standard 2.0 USB, you'll see many of the drawbacks with installed software like back ups that are reasonably not real back ups, just files, your OS cannot be backed up on an external. These drives now with the support I have of the many 3.0 ports will give me room to expand with more of them, well priced storage and made by Western Digital. My older 5,200RPM's will be archived and four more terabytes will be added to the array.

Mouse Pad: Even the most trivial parts of your workstation can affect your performance, something as simple as a mouse pad you think wouldn't make a difference, I found it does. The accuracy of the mouse is solely dependant on its surface it hovers, especially an LED style. It's great to have a custom one printed of the family or something similar until you find the mouse searching because of the image. The Rocketfish Teflon coated pad is a thick aluminum pad covered in Teflon for easy glide with a matt black finish. The mouse takes aim even at the fastest setting and tags the mark easily.

The Owners Handbook, Documentations: As I spoke about it above, this is one of the finest examples of a company making you the first and foremost. This manual is large, loaded and feels like it should be in the glove box of a BMW, nothing's left out and everything is added.


What Isn't Shown:

Of course it would only be the monitors, printer, sound system and microphone. I returned my two Samsung 23's since they came out with LED monitors, yet am still a bit at a loss for which I will chose, right now it will have two Hanspree 22's which replicate color perfectly yet the 16:10 aspect makes me want to go back to the 16:9. I see many choices yet what I feel are biased reviews in many online and store reviews. I'm leaning towards LG's 23's for proper color in an LED with the 16:9 aspect ratio, LCD's are still very good but have yet to find another good one that would be right for photography and graphics for exact color.

Printer: I haven't owned a printer in years, I don't print my images but today I feel I need scanning and printing for saved text and duplication purposes.

Sound System: I've always like Altec Lansing and have it on the older comp, the onboard audio is fine for my needs, The Bose system 3 sounds incredible and though costly I may take that approach, it really does sound sweet.

Bluetooth headset: With all the typing I do, I have now thought of the use of Bluetooth technology for anything including voiceover on video, and voice recognition software. It would be a great advantage for me to have a clear voice text editor to allow me less time on the keyboard and more time on the computer. Dragon Naturally speaking premium is my newest idea.


Software To Be Installed:

Since now moving to 64 bit my software is really at a loss, though I will be installing Windows XP as a Virtual Machine, I didn't get a comp like this to not take the most advantage I could of all it has to offer. Windows XP will get all the older programs that have not yet found a solution for the Windows7 OS or the 64 bit versions that have not yet made the final grade.

Adobe Master Collection CS5: After consulting with the makers of the computer, they advised me of the advantages Adobe has in the CS5 editions, The Master collection is filled with almost everything I think I can learn a similar interface as CS3 from what I've seen.

Time for an Office upgrade, I have been using such an outdated Office version, it's pathetic, the full MS office 7 will be arriving soon.

PHP Install: Trying to take my web design to a higher level, php is needed, running as a virtual php, I can now see modifications of Wordpress, Joomla in real time not just on the web, also looking towards development from the assorted base frameworks.

Corel Video studio and Draw: I have tried to use these on the older comp but video is very intensive and of course so is the drawing. Corel still holds a good handle on many of the graphics areas. A Corel file can only be opened properly with Corel.

Canon Camera Software: You may ask why, but Canon does have great software for their cameras. Since I have three different versions it gets its own section along with other programs that integrate with it.


The Final Chapter Until I Turn It On:

You may think this is all just speculation on my part of just how good this computer will be. I can assure you that all my expectations will be met or exceeded in the end as I have found with any Falcon Northwest owner. My hopes of streamlining workflows, managing such large files and increasing output can only be done these days on a fast well built machine. As I opened the box, I knew I have the most powerful version of a Talon I need to go into the future with confidence and performance and should have done it months ago.

Thanks for reading !!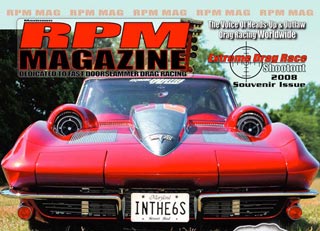 RPM Magazine Official Website Link


Cover Shot By goDragRacing.org

Draglist.com - Stats, Stories, Photos, Links, Classifieds & More!


Draglist.com 10,000 Links and Growing

A drag racer's paradise: 80,000+ drag racer listings from 1950 to present.
10,000+ links, photos, stories, video clips, a friendly, flame-free message
board, free classifieds, and much more.